The PAC consists of a display, monitor and transmitter of information is in one place and Data acquisition and Controller integrated HMI and HMI functionality independent of the traditional view of the Controller and remove existing problems in the relationship between these two parts is high.
This combination, controls more efficient and easier maintenance safer, less expensive and potential benefits of reduced wiring complexity, more efficient operation system provides medium to large.
According to the HMI system integrity processor and a much higher speed than the processor is capable discrete programmable HMI, connectivity has created much better and faster for users.
As well as integration with HMI and PLC's wide range of industrial control panels and panels can be as simple as possible. The better the performance, the possibility of error and speed much faster implementation for large systems, especially in large industrial network provides.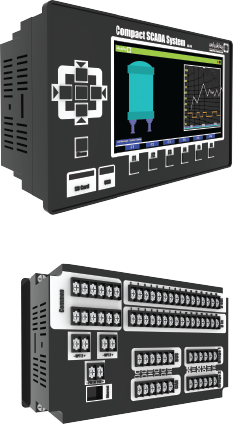 General :
Control systems PAC, signal processors, displays and a wide range of input / output and integrated industrial network
SOC powerful processor capable of processing and parallel processing to speed 200MHz
Display:
7-inch full-color touch screen Touch screen systems
Drawing capabilities of graph
operating system :
Real-time control with Tick, 0.1ms
Loaded applications based on Application
The ability to control up to 16 axis motion control (motion control)
The ability to control up to 6,500 nodes
FAT via SD slot and USB
Equipped with up to four channels LBus port compatible with Modbus and RTU protocol with the ability to function at high speed
The port isolation LBus
Bus:
Ethernet port for Full Duplex, 100mps to connect to Ethernet or Fieldbus
Equipped with high-precision analog ports (0.001 percent) for reading information panels and weight measurements.
Equipped with four-channel input circuit 4 to 20 mA or HART
Equipped with 16 digital inputs or high-speed type isolated
Equipped with 16 digital output of high current (40ma) or high speed
Fieldbus network port is equipped with a GSM-compatible processing MBus protocol and CANopen Can function for high-speed Fieldbus systems
Power supply :
Equipped with powerful internal power supply
It supports two parallel power supply input to the controller for safety Balatrtvan
Protection against surge current, input noise and sudden changes in power supply up to 3 times the operating voltage power supply with automatic internal thermal fuse
Meet 3 -IEC61131
Support from powerful internal FB
Functionality equivalent to 320 thousand lines Ladder
Sixteen parallel application support
All variables for online visibility program of the Central Bus
Sixteen-axis motion control capabilities through the MBus
Support 64 PID Controller for online
Object-oriented programming language Python
Floating numbers when calculating calculator with less than 1Us
Local application management capabilities through the Central Bus
Update on time of less than 10ms Central Bus
The possibility of creating a specific FB and ultrafast ++ C based language
Example 1: BLOCK Diagram of connections in a large system 
Example 2: surveillance and fire alarm system with the possibility of remote reading:
IEC 61496 Safety f., e.g., Light curtains 
IEC 61131-6 Safety for PLC
IEC 61800-5-2 Safety functions for drives
ISO 10218-1 Safety requirements for robots 
IEC 61784-4 Security (profile-specific) 
IEC 62443 Security (common part) 
IEC 61784-5 Installation guide (profile-specific)
IEC 61918 Installation guide (common part) 
IEC 61000-2-1 Methodology EMC+FS 
IEC 61326-1-3
IEC 61000-6-7 Test EMC+FS 
IEC 61508 Functional safety (FS) (basic standard)   
ISO 12000-1 and ISO 14121 Safety of Machinery-Principles for design and risk assessment 
Design of safety-related electrical, electronic and Programmable electronic control systems (SRECS) For machinery 
STL based Pl based 
IEC 60204-1 Safety of electrical equipment
US: NFPA 79 (2006)
ISO 13849-1,-2 Safety-related parts of machinery (SRPCS) Nonelectrical
The physical dimensions of the device: